How do I create Video overlays in Dawn?
Video overlays in Dawn are text and graphic elements that you can time to appear over the top of a video. You control when they appear, when they disappear, and whether the video continues to play or pauses for the Overlay.
Video overlays allow you to create engaging interactive video experiences and easily add instructional content to videos right in Dawn!
Each Overlay can have up to four Cards, and you can easily adjust each card's size, placement, text, and color right in Dawn.
Overlays can be images that you add to a video to call out details or strengthen the message.
You can make Overlay Cards clickable, too, letting learners click on answers to a question, images, and even invisible hotspots on elements in the video!
Clickable Cards can navigate learners to a new scene in a Video story, continue the video from where it is if paused, or take the learner to a different instruction in the catalog entry.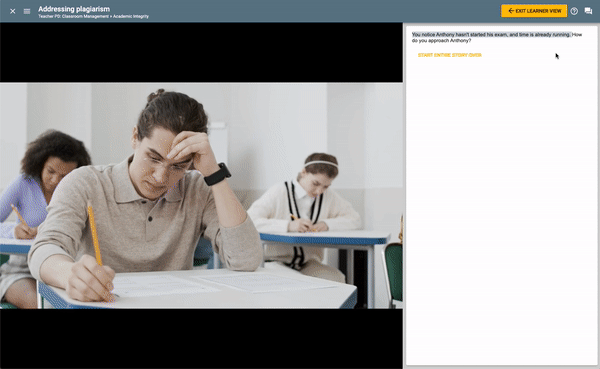 Video overlays are versatile!
You can use Video overlays for many things, including:
Branching pathways in Video stories or course content where learners can navigate by clicking images, text, or invisible hotspots overlaying elements in the video itself.
Text and graphic callouts to enhance existing video and strengthen message.
Notes you want the learners to read and click before continuing.
Create Video overlays
Adding Video overlays is easy:
Using the video preview in the Video card, place the video scrubber approximately where you want the Overlay to appear. You can change this timing later if needed, and you must allow the Overlay to appear for at least .5 seconds.

Note: You can also Add overlays in the Overlays tab.

Click the Add button and select Overlay.
Choose overlay layout from eight layout options. You can move, resize, add (up to four), and delete the Overlays once they are placed.
Make any necessary changes to the Overlay's timing.
Choose to Pause the video or not when the Overlay appears.
With the Click action dropdown, you can define what happens when the learner clicks the selected Overlay Card. You can choose:

No action.
To Continue video from where it paused for the Overlay.
To take the learner to any other Instruction (like a Video story or instruction video) in the catalog entry.
If the Overlay is part of a Video story, to take the learner to any Scene in that Video story.

Add text that you want to appear in the selected Overlay Card.
Choose the text's Background color and Foreground color (the text, itself), and control the transparency of both.
Select a Background image for the selected Overlay Card.

Note: In order for images to appear in this menu, you have to upload them to the Resource library.

Click Add card to add up to four Overlay Cards, and repeat steps 6-9 for each. From the Overlays tab, you can add more and edit existing Overlays.
Once you have set up your Video overlays, test them to make sure they function the way you want, and that there are no deadends in the pathways they take you on.